Fisci & Friends Wildfire Children's Activity Coloring Book
This video discusses the best ways to prepare your home for wildfire. We discuss clearance requirements and home preparation in San Luis Obispo County.   
FIRE PREPAREDNESS HANDOUT
This informational flyer provides direction ont home preparedness, evacuation guides and safety checklists that will assist you in the event of a wildfire.
These evacuation plans were developed to give residents information on evacuating in the event of a wildfire. We are a proud sponsor of the CAL FIRE / San Luis Obispo County Fire Pre-Attack Plan products. These brochures identify primary evacuation routes, check lists and critical phone numbers. 
ATASCADERO
EVACUATION PLAN
ATASCADERO (WEST)
EVACUATION MAP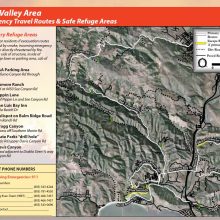 AVILA VALLEY
EVACUATION PLAN
LAKE NACIMENTO
EVACUATION MAP
FireSafe Council SLO is a proud sponsor of the CAL FIRE / SLU Pre-Attack Plan production. These maps provide an overview of fire prone areas throughout SLO County.   They are printed and made available to first responders before and when an incident occurs. These maps identify roads, homes, powerlines, water sources, and many other important locations within a fire prone area.